Dean Fadel – President and CEO
Dean Fadel serves as president and CEO. He was named to the position in 2016, and was formerly vice president of government relations beginning in 1988. He has led the development and successful implementation of legislative, regulatory, and public relations strategies affecting state public policy matters, negotiated numerous pieces of legislation and amendments, developed and oversaw the organization's political action committee, organized and implemented statewide grassroots initiatives, and more. Prior to joining OII, Fadel held legislative and public affairs positions at the Ohio Dental Association and Ohio Department of Insurance.
Fadel received his bachelor's degree in business administration from Ohio University. Active in both state and county developmental disabilities boards, he currently serves as president of the Ohio Association of County Boards of Developmental Disabilities board of trustees and probate court appointee for the Franklin County Board of Developmental Disabilities. He is also the former president of Franklin County Board.
Fadel resides in Blacklick with his wife, Jacquie, and their daughter, Rachel.
Michael Farley, CPCU – VP, Government Affairs and General Counsel 
Michael Farley serves as Vice President of Government Affairs and General Counsel at the Ohio Insurance Institute. Appointed in 2016, Farley leads the association's legislative and regulatory affairs initiatives. He represents the industry before the executive, legislative, and judicial branches on public policy and regulatory matters, manages and coordinates activities of the association's legislative committee, surety committee, and legal subcommittee, coordinates the amicus practice, and serves as in-house legal counsel.
Prior to joining OII, Farley was Judicial and Legislative Affairs Counsel at the Supreme Court of Ohio. He also served as Assistant Director for Legislative affairs at the Ohio Department of Insurance and held legislative/public affairs positions with the American Red Cross-Ohio, Office of Governor Bob Taft, and for former State Representative David R. Evans, among others.
Farley holds two law degrees from Capital University Law School: an LLM in Business Law and a Juris Doctor. He also received a Master of Public Administration from Ohio University and an undergraduate degree from the University of Akron. Farley is admitted to practice law in Ohio and the District of Columbia. He is the President of the Ohio Alliance of Boys and Girls Club, a past member of the board of trustees for Ohio Center for Law Related Education, and President of the Thomas Worthington High School Football Boosters Club. In 2023, Farley was appointed by the members of the Supreme Court of Ohio, to serve on the Commission on the Thomas J. Moyer Ohio Judicial Center. Farley serves as an adjunct professor of law at Capital University Law School where he teaches "Insurance Law," "Corporate Governance," "Nonprofit Law," and "Business and Finance Concepts for Lawyers." He is the Chairman of the Ohio State Bar Association Corporation Law Committee and currently serves as the Fiscal Officer for Sharon Township.
Farley earned the Chartered Property Casualty Underwriter (CPCU) designation.
Farley resides in Worthington with his wife, Erin, their son, Liam, and daughter, Nora.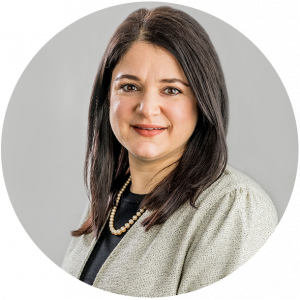 Kristen Berger – Director, Communications
Kristen Berger serves as director of communications. She was named to this position in November 2020 and brings over 15 years of experience in strategic communications, copywriting, editing and publication management. Prior to joining OII, Berger served as senior communications specialist at the Ohio Public Employees Retirement System. Her past experience includes insurance and trade association work, having served as communications coordinator for the Ohio Insurance Agents Association, Inc. She also worked for the Ohio Telecom Association and as a legislative aide in the Ohio House of Representatives.
Berger earned a bachelor's degree in journalism from The Ohio State University. She is a native of Sylvania, Ohio and currently resides in Columbus with her husband, Brad.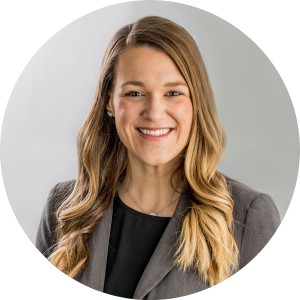 Amanda Schroeder – Director, Membership and Administration
Amanda Schroeder serves as director of membership and administration. She was named to this position in 2023, and formerly held roles as business project coordinator and manager of member services. She has previously worked as a coordinator for marketing and philanthropy at Girl Scouts of Ohio's Heartland and an admin at the Hilton Columbus at Easton.
Schroeder strives to provide OII's members with an exceptional experience, maintains the membership database, and plans OII events. She also oversees OII's day-to-day operations.
Schroeder holds a bachelor's degree in interpersonal communication with minors in organizational communication, public communication, and management from Kent State University.
Noah Johnson - Manager, Strategic Public Affairs
Noah Johnson serves as manager of strategic public affairs. He was named to the position in September 2021. Prior to joining OII, Johnson served as senior legislative aide in the Ohio Senate to Senator George Lang.
Johnson is an experienced campaign manager, having successfully run multiple state legislative campaigns in both primary and general elections. He has worked for both the Ohio House Republican Organizational Committee (OHROC) and the Republican Senate Campaign Committee (RSCC).
Johnson graduated magna cum laude with a bachelor's degree in business from Miami University of Ohio.
Connie Frey - Program Assistant, Insuring Ohio Futures Subcommittee
Connie Frey serves as program assistant for the Insuring Ohio Futures Subcommittee. She was named to the position in March 2021. Prior to joining OII, Frey retired from Westfield Insurance after a 36-year career. Throughout her career, Frey actively contributed to the industry as a member of the OII's Education and Workforce Development Committee and the Invest Board of Directors. Frey was a representative on Ohio's Insurance Industry Resource Council (IIRC) Executive Committee, where she took part in the Insuring Ohio Futures initiative. She also served on Risk Management and Insurance Advisory Boards at Bowling Green State University and Kent State University.
Frey earned a bachelor's degree from Bowling Green State University's College of Business and obtained her Masters' of Business Administration (MBA) from Ashland University.