Enacting a hands-free distracted driving law remains a top priority for Ohio Governor Mike DeWine. Gov. DeWine has helped bring awareness to the importance of this issue and educate lawmakers about the need for tougher distracted driving laws in Ohio. Gov. DeWine's Hands-Free Ohio proposal would make driving while handling any electronic wireless device a primary offense for adult drivers. Currently using a hand-held electronic device while driving is only a secondary offense, meaning law enforcement cannot make a traffic stop unless the driver is committing a primary offense such as running a red light.
Why Ohio Needs Hands-Free Legislation
Data from the Ohio State Highway Patrol shows that 2020 was the deadliest year on Ohio's roads in over a decade. Ohio ended 2020 with 1,237 traffic deaths—82 more than the 1,155 reported in 2019. In 2020, travel in Ohio was down about 17% and traffic deaths rose 7% compared to 2019.
Fatalities on Ohio's roads have risen six of the past seven years. This rise is directly correlated to more people now having smartphones, leading to an increase in active distraction while behind the wheel. The dangers of using a hand-held electronic device while driving include greater variability in speed, position within lane (i.e., weaving) and distance from car in front, and slower reaction times that increase the frequency and severity of collisions.
Currently, Ohio, Nebraska, Missouri and Montana are the only states without primary enforcement laws for adult drivers using wireless devices for text-based communications or for any purpose.
Traffic deaths on Ohio's roads in 2020
Traffic deaths on Ohio's roads in 2019
Traffic deaths on Ohio's roads in 2018
"Ohio's Laws Don't Go Far Enough"
As Gov. DeWine said, "Ohio's current laws don't go far enough to change the culture around distracted driving, and people are dying because of it," said Gov. DeWine. "Distracted driving is a choice that must be as culturally unacceptable as drunk driving is today, and strengthening our current laws will lead to more responsible driving."
That belief stems from the numerous studies conducted in states across the country that have moved forward with their own common-sense distracted driving laws and have seen sharp decreases in traffic fatalities. In fact, of the 14 states that enacted these laws before 2018, 11 saw a decrease in their traffic fatality rates within two years after passing and enforcing new laws, according to the National Highway Traffic Safety Administration.
The increasing number of fatalities is not only devastating to those who have lost loved ones, but is also costly to the state of Ohio. Each traffic death costs Ohio about $1.7 million and each serious injury $157,000 in monetary losses associated with medical care, emergency services, property damage and lost productivity (ODOT). These costs are incurred by the insured and uninsured across Ohio.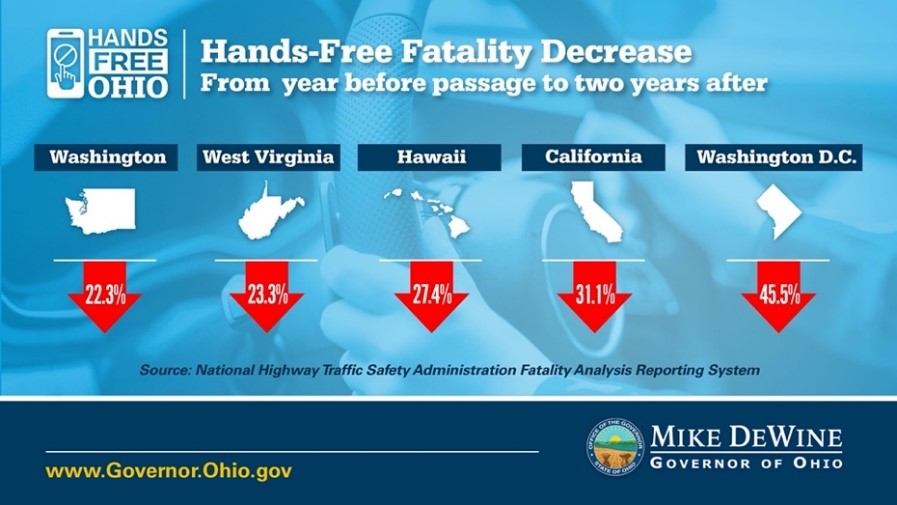 Advocacy and Legislative Efforts
Gov. DeWine's commitment to improving the safety of Ohio's roads by seeing a hands-free distracted driving law adopted has not been weakened by the proposal being removed from his transportation budget. At this time, we anticipate a stand-alone distracted driving bill, modeled after the Governor's hands-free proposal, to be introduced in the Ohio House.
Part of the advocacy efforts of the coalition include connecting victims of distracted driving and their family members with their state representative. These connections have proven to have the biggest impact on legislators, despite the overwhelming data.
If you or someone you know was a victim of distracted driving, we ask you to please share your story with StopDistractions.org. This nonprofit organization is committed to building awareness of the devastation that results when a loved one is killed or injured in a distracted driving crash, and is a partner with the coalition seeking passage of the Ohio law. Stop Distractions will share these stories with legislators as part of our grassroots efforts to build support for tougher distracted driving laws in Ohio.
Distracted Driving is THE Biggest Concern for Ohio Drivers
According to a recent statewide poll commissioned by the Fix Our Roads Ohio Coalition (FOR Ohio) and prepared by Neil Newhouse of Public Opinion Strategies, nearly half of Ohio drivers surveyed cited distracted driving as their biggest concern.
Support for Hands-Free Legislation
The survey results clearly show Ohio drivers are largely in favor of enacting a law to make distracted driving a primary offense. Overall, 78% of Ohio drivers said they favor a hands-free law that prohibits holding a phone to talk or text while driving, and 88% said they would obey the law. The survey results also show that 75% of Ohio drivers think distracted driving is as dangerous as drunk driving.
Percentage of Ohio drivers who think distracted driving is as dangerous as drunk driving
Percentage of Ohio drivers who DISAGREE with the state legislature that this law is not needed.
Percentage of Ohio drivers who say they would obey distracted driving laws.
Percentage of Ohio drivers who support distracted driving legislation.